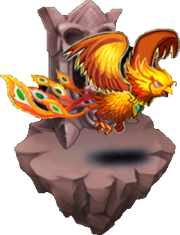 Skills
[
]
| Skill | Description | Strategy |
| --- | --- | --- |
| Revival | When HP reaches 0 he will become a ball and get revived if not destroyed for a certain amount of time. | Select heroes that can deal Repeated Damage. |
| Fire Shield | Resists all magic damage and most control skills. | Select heroes that do physical damage. |
Recommended Heroes:
[
]
Heroes who can attack rapidly or deal Repeated Damage: Rifleman, Shadowleaf, Cloud Walker, Bear Warrior, Drunken Master, Ninja Assassin, Swordmaster, Wandering Spearman, Commander, Fallen Dominion
You can fill any gaps in your team list with any hero who can survive the boss' attacks and provide at least one or two extra hits.
Possible Loot
[
]
Difficulty
Loot
Difficulty
Loot
Difficulty I
Difficulty II
Difficulty III
Difficulty IV
Difficulty V
Difficulty VI
Difficulty VII
Difficulty VIII
Difficulty IX
Difficulty X
Difficulty XI
Unlocks at 107
Analysis
[
]
The Phoenix boss opens with several explosive attacks that deal magic damage in a small AOE before using several normal attacks against the leading hero that deal physical damage. Afterward, the boss will use his "ultimate skill" which deals repeated magic damage to the entire team while simultaneously draining his own health. When he runs out of health, he will become an "egg." This is when you must attack him rapidly, as after a certain number of attacks he will die. The attacks must be physical (or holy) attacks, as the Pheonix boss is immune to magic damage. IF you fail to kill him, he will resurrect after several seconds with nearly full health and repeat his pattern. It is unlikely you will be able to beat him at that point, so it is best to quit and try again
It is possible to reduce the amount of damage the boss' "ult" does by dealing large amounts of damage to him, which can mean the difference between an important hero surviving or not. Be aware that it is possible for this strategy can actually backfire, as the reduced damage can cause some heroes to have insufficient energy to use their ultimate abilities.
See also
[
]
Phoenix: a recruitable Hero similar to this Boss.