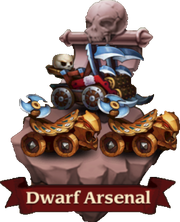 Dwarf Arsenal is one of the Time Rifts. The enemies drop great amounts of items that can be sold to vendors for gold. The rarity of the items is releated to the level of the challenge.
Challenge Open
Edit
Tuesday, Thursday, Saturday and Sunday.
The enemies in this trial universally deal AOE (Area of Effect) physical damage and tend to have large health pools. For the first three difficulties, most middle-line heroes are ineffective as they cannot stand up to all the damage. It is better to use 3, 4, or even 5 front-line heroes, as they can survive the damage much better. Having at least 1 hero for healing is essential; Soulhunter, Deathknight, Chaplain, and Wizard Doctor are all well suited to this role. Having 1 or 2 rear-line heroes for healing or extra damage can be effective, as much of the AOE fails to reach them. This strategy aims to out-tank the enemy and defeat them slowly.
For the last 3 difficulty levels, this strategy becomes ineffective, as from difficulty 4 onward, every wave has a "Mortar Team" enemy with them who deals massive amounts of damage. This makes tanking nearly impossible, so you must aim to kill the enemies as fast as possible. Ideally you should have some way to kill the mortar team quickly in every wave. Ninja Assassin is very good at doing this. The Cloud Walker's clones can also "distract" the mortar team, causing him to under-shoot his attacks or fire in the wrong direction and miss your team. Having at least 1 healer is essential, and Chaplain is ideally suited for the task, as she can resist the physical damage and provides a massive amount of healing. Her "Charm" skill is also useful in deflecting incoming damage.
Personally, I have had success with a team around consisting of Fallen Dominion, Cloud Walker, Ninja Assassin, Chaplain, and any fifth member who can deal extra damage, heal the party, or at least survive the enemy's attacks. They were about lvl 75 for difficulty 4 and about lvl 80 for difficulty 5.
Possible Loot
Edit
Difficulty
Loot
Difficulty
Loot
Difficulty
Loot
Difficulty I
Difficulty II
Difficulty III
Difficulty IV
Difficulty V
Difficulty VI
Difficulty VII
Difficulty VIII
Difficulty IX
Difficulty X
Difficulty XI
Community content is available under
CC-BY-SA
unless otherwise noted.