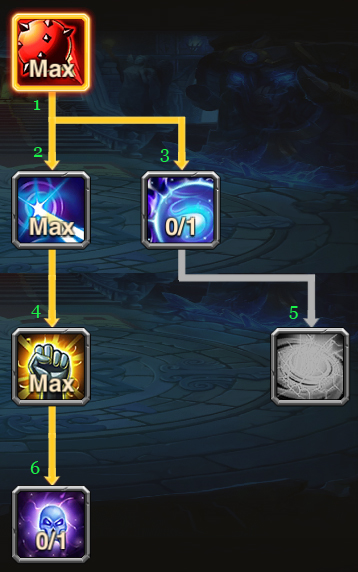 You must start at the top and work your way down.
You must have completed gathering and combining all the pieces for the book before you can train your heroes.
I have numbered the boxes to make this simpler, it does not mean you have to follow the numbers precisely. Ex. after you have unlocked the first box, you may choose to go to 2 or 3.
How to get:
Edit
Chap. 13 Elite Narrow Path
Drop rate is similar to hero stones, 1 book for raiding 3 times.
Crafted by combining 10 Memoir pieces
Progression
Edit
1 AP Ammo
Passive: increases armor penetration ability by 4
Resources Cost
2 Embrace of Shadows
Passive: increases 13 physical crit
Resources Cost
3 Anti-Mage Shield
Effected Attributes: Magic Resistance
Resources Cost
4 Agility Boost
Passive: increases agility by 18
Resources Cost
5 Static field
Effected attributes: Magic Resistance
Resources Cost
6 Gift of Life
Resources Cost
Community content is available under
CC-BY-SA
unless otherwise noted.