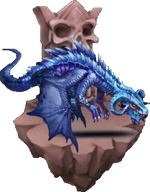 | Skill | Description | Strategy |
| --- | --- | --- |
| Frozen Field | Freezes nearby heroes but does not affect flying heroes. | Select Flying Units. Floating units do not count. Any unit not flying will be frozen at the beginning of the battle and will be unable to do any damage for the duration of the battle. |
| Winter's Heart | Resists most of the control skills. | |
Recommended Heroes
Edit
Flying heroes have the "flyer badge" in their stats window. The flying heroes are: Old Curse, Poisoned One, Master Mage, Phoenix, Pilot, Witch, and Griffin
If you lack flying heroes, you can go for "Difficulty II" - Kills with Commando, 2 ranged heroes, one tank, and one flying hero. With the speed Buff from Commando there should be enough damage to kill him with one flying hero. As long as you dont have 5 flying heroes, take one tank so that your flying heroes survive longer (such as Iron Hoof, Dwarf Warrior or War Chief).
If you have only 3 flying heroes, you can use a tank and the Commando to fill the roster, as the tank will help your flyers survive, and the Commando's agility and haste buff will allow your flyers to do a bit of extra damage.
Possible Loot
Edit
Difficulty
Loot
Difficulty
Loot
Difficulty I
Difficulty II
Difficulty III
Difficulty IV
Difficulty V
Difficulty VI
Difficulty VII
Difficulty VIII
Difficulty IX
Difficulty X
Difficulty XI
Unlocks at 107
Community content is available under
CC-BY-SA
unless otherwise noted.