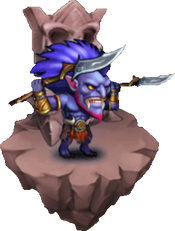 Having a bunch of heroes that can tank damage and grant immunities are great, you don't have to use healers like Chaplain. Soulhunter is ideal, since he can tank, heal, and deliver a killing blow in the last few seconds. Phoenix is also effective, as he can revive himself to take a few extra hits.
Other effective heroes are; Iron Hoof, Cleric, Dwarf Warrior, Death Knight, War Chief, and other tank characters. Heroes like Fallen Dominion and especially Cloud Walker are effective as well, as their clones can take hits for other heroes.
| Skill | Description | Strategy |
| --- | --- | --- |
| Blood Frenzy | Sacrifices his own HP and deals damage. | |
| Undefeatable | Has high HP and resists control skills. | Select heroes with Healing Abilities |
Possible Loot
Edit
Difficulty
Loot
Difficulty
Loot
Difficulty I
Difficulty II
Difficulty III
Difficulty IV
Difficulty V
Difficulty VI
Difficulty VII
Difficulty VIII
Difficulty IX
Difficulty X
Difficulty XI
Unlocks at 107
Community content is available under
CC-BY-SA
unless otherwise noted.