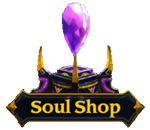 Soul Shop
Edit
The previously known as "Martial Merchant" is now the Soul Shop. It is a special merchant that only appears if the player has met certain conditions.
The conditions are as followed:
The Player must have evolved a Hero to at least 5 stars.
Vendor ~ Swordmaster
Edit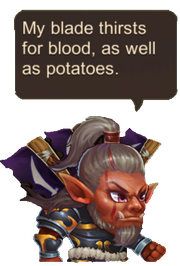 Martial Merchant moved from the left side of the screen to the right side of the Guild Castle and changed its name.
Trivia
The layout has changed, the name has changed and now you can purchase parts of items or items themselves.  You do not need 20 or more soul stones anymore to open the store, once you have a hero to 5 stars the store becomes available. Soul stones can be purchase one at a time. When you enter the shop and you have excess Soul Stones you will be promoted to sell for 100 coins per stone.  They removed upper and lower tiers, 1,200 for 1 and 96000 for 80. Hero stones can now only be bought 20 at a time for 24,000.  In the Crusade extra hero stones can accumulate quickly for 5 star heroes. Crusade on hard will also double your loot and money if you can survive.
Not all heroes are available every day (Cat Fencer and Sword Master share the same slot).
Heroes Currently available:
Edit
Community content is available under
CC-BY-SA
unless otherwise noted.